Ray du Soleil - Our Story
Welcome to Ray Du Soleil Maine Coons located in the northwest suburbs of Chicago.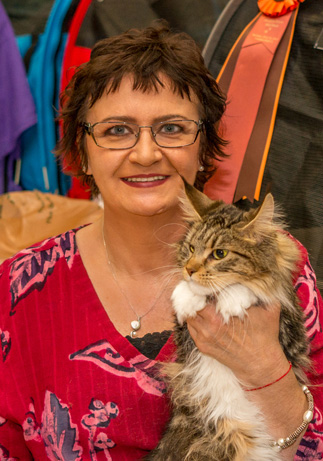 For over twenty five years, cats have been part of our lives. After the death of our beloved red tabby cat namedNiunius (at the age of 17), we were heartbroken. We made a decision to adopt a breed that we've always beenfascinated with, known as the gentle giant. Vinnetou came to us all the way from Europe. We fell in love with thebreed and decided to start our own cattery so that we could share the joy with families who are searching toadopt a Maine Coon.
In 2006, I established Ray Du Soleil Maine Coons. I showed my firstbreeding Maine Coon Fiji, a red classic tabby. Fiji is the stud of our cattery, lion-like, intelligent, sweet mommy'sboy, and very easy going. He earned his Quadruple Grand Champion and was the Second Best Red ClassicTabby of the year. We show our Maine Coons in TICA (The International Cat Association) and CFA (Cat FanciersAssociation). Since then, the love for Maine Coons turned into our passion to breed these magnificent cats. Our breeding program includes top European and American Grand Champion lines that are healthy, friendly,ideal in type, and have extraordinary personalities. We strive for the perfect Maine Coon features whilemaintaining excellent health. We carry all colors including browns, silvers, blues, reds, creams, torbies, with andwithout white, mostly classic tabby pattern, and solids (black and tortie). We invite you to take a look at the'Offspring' page to see what kittens have been adopted.
Our philosophy to raising our cats is simple, they are part of the family, raised underfoot. Kittens are handledfrom birth and they have constant human contact. We make sure they are properly socialized in order to adaptquickly to their new families. We care about their well-being so our priority is to make sure that they find foreverhomes.
Regularly vaccinated and tested, our cats are clear of FeLV, FiV, and HCM. Our kittens are monitored andexamined by our veterinarian who comes to our home. We strongly believe in feeding our cats top qualitynutrition because it impacts their health and appearance.
We're happy for families who have welcomed our kittens to their homes. We thank new parents for loving andtaking care of our babies and for sharing photos and updates as they grow. Families who adopt from us notonly live in the Chicago area, but also come from other states and countries.
We look forward to getting to know you and helping you find your next feline companion.